Introduction to Shipperhelp.com
All needed information and services in one place. Here you will find well selected and categorized supplier lists, articles about various shipping insights and also you have ability order our website developing, maintenance or marketing services.
Our products:
Our services:
Website and eshop development
Product import / export
Payment and shipping integrations
Automated invoicing integration
Premium custom features for online shops
Maintenance and repair services
Marketing, seo, google, facebook ads
Can I get suppliers list sample? What's inside?
Every supplier list you purchase from us will include: 
Supplier company name

Short, specific description of the company, main areas of activity, products for sale or similar information.

Suppliers website address (all 100% suppliers in the list have company website or internet product catalogs) there you will find supplier contacts - email or phone number.

Number of specific suppliers not less, sometimes more than writed in the list description.
Want to see the list sample? Let us send it to you by email:
Can Shipper Help create new eshop and import products from these suppliers?
Totally yes, if you need help to set up an online shop just visit our service page and fill out the inquiry form. We will contact you shortly.
Does Shipper Help offers sales online?
Yes, all current discounts are listed on our website under each supplier list. If you want to buy more than 5 lists you can contact us at info@shipperhelp.com for custom discounts.
Can I suggest new suppliers?
Our supplier selection process is very strict, each supplier must be reliable, have their own company, website, etc. But yes, you can suggest a supplier to be added to our lists by filling in the form on the contact page.
Which payment methods can I use to pay for supplier information?
Shipper Help accepts the following forms of payment for online purchases:
Visa

Mastercard

American Express

Paypal

Paysera

Apple pay
More available payment methods you will find on the checkout page.
Please note that your billing address must match the address on your credit card statement.
Will I receive an invoice after I have purchased a list of suppliers?
Yes, you will receive an automatically generated invoice in PDF in your email as soon as you pay with your chosen payment method. Invoice will be attached to the order confirmation email where you also get the link to download purchased suppliers list.
Can I use multiple methods of payment?
Purchase your desired supplier list using one of the payment methods listed above. For further information, please contact us at info@shipperhelp.com
Can I cancel or modify my order?
You can only change your order before you make a payment and receive a list of suppliers. After the list of suppliers has been sent to your email address, changes are not acceptable as the supplier information has already been disclosed to you.
My order has been declined; I have problems purchasing the list;
If your order has been declined, it can be problems with your bank or order form mistakes in the checkout page. Try to resubmit your order after correcting the errors. If you do not know why your order was cancelled, please contact us by email.
If you need help to complete the order: click here to read purchase steps.
For more information and help contact us by email info@shipperhelp.com
About our suppliers lists
How to get suppliers information? How to receive the list?
The process is very simple, you can acquire suppliers information by doing as follows:
1STEP – Find your desired suppliers by products category or country.
Start by going to our supplier list shop page: List of suppliers (LINK HERE).  Sort desired lists by country or just type any keyword in the search box. After you find the list you want, just open that list page by clicking on the violet button ,,unlock info" as shown in the image below:
2STEP – Add a list to the shopping bag.
After you find the list and have entered the list page, read more information what you need about this list and then press violet button ,,unlock list now":
3STEP – Add more lists to the same order or proceed to checkout.
In the top right corner, you will see a cart icon with an orange list quantity indicator. By clicking on it you will open a mini cart where you review your order. You can close it and go again to the list shop page to add more lists or to complete the order just click violet button ,,Checkout" located at the bottom of the mini cart:
4STEP – Fill out your billing details and contacts to send suppliers list to.
On the checkout page, you need to fill out your First name, Surname, email address, and select your country from the dropdown list. You can also add a company name if you want it to be added to the invoice. 
Select checkbox ,,I have read and agree to the website terms & conditions" and press violet button ,,Place order":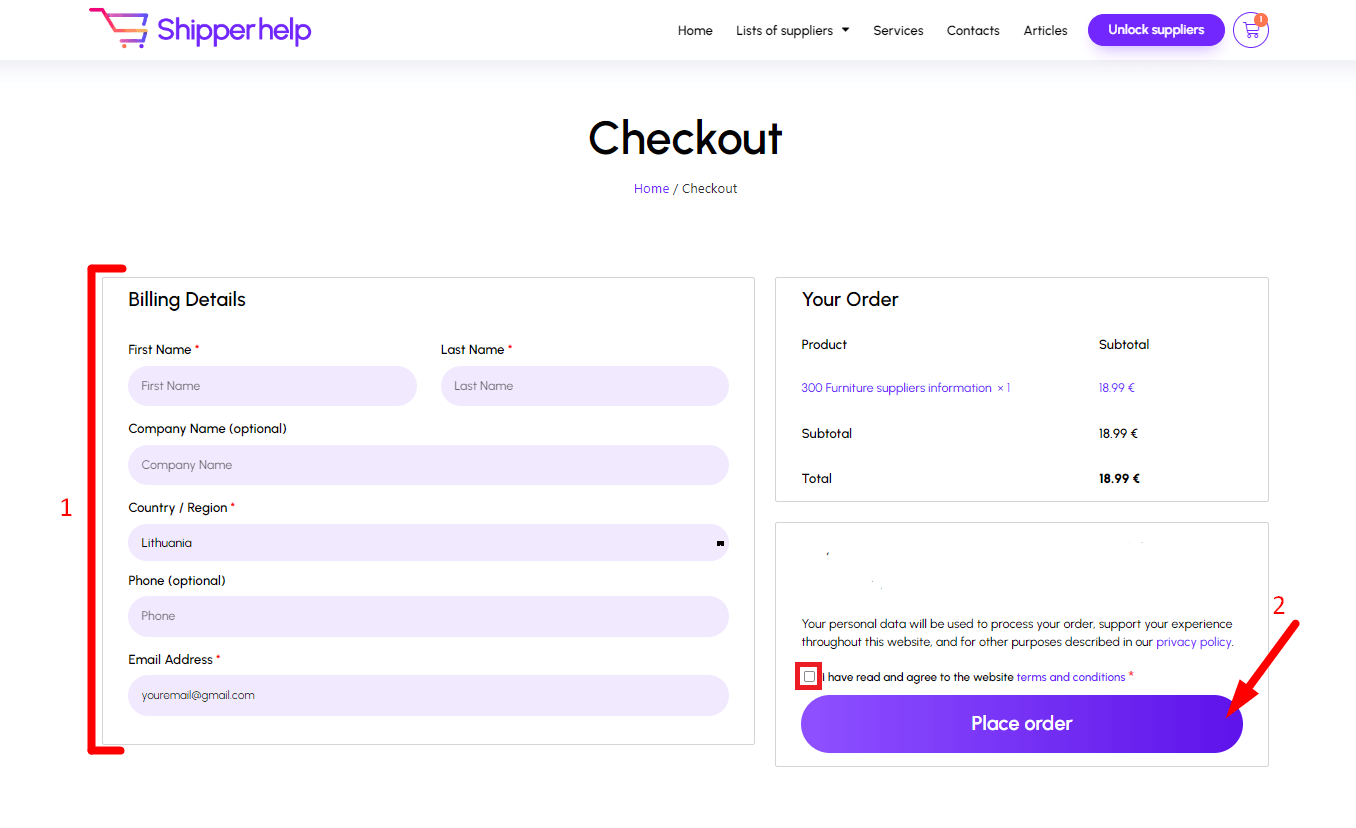 5STEP – Complete the payment window by the following instructions on the opened bank window.
Depending on your country and selected payment method you will be redirected to the payment processor page. Here you will see the order payment authentication steps from your bank, it can be a code generator, smart-id, or any other authentication system you are always using for all online purchases. In the end, you will probably see a button similar to ,,finish and go back to the seller" – click it.
6 FINAL STEP – Check your email inbox for the list and invoice.
Go to you email box and there you will see the new letter from us with your order information and attached PDF file with suppliers list. Open it and start getting suppliers!
Do suppliers send products worldwide?
Suppliers usually offer delivery anywhere in the world, but it depends on the specific supplier. We have tried to select the most versatile suppliers in the list, so most suppliers offer Worldwide or Europe delivery.
How many suppliers will be in the list? What information is included?
List names starts with the number of suppliers in the list. For example: 300 Furniture suppliers information contains 300 or even more suppliers companies.
Every supplier list you purchase from us will include: 
Supplier company name

Short, specific description of the company, main areas of activity, products for sale or similar information.

Suppliers website address (all 100% suppliers in the list have company website or internet product catalogs) there you will find supplier contacts – email or phone number.

Number of specific suppliers not less, sometimes more than writed in the list description.
Want to see the list sample? Let us send it to you by email:
How to contact the supplier and start partnership?
In the lists, you have purchased you will find supplier company website. In the website you will see contacts such as email address, phone number, address or some kind of registration form. 
Think carefully about your first contact with your chosen supplier. Give them as much information as possible about your business, current or planned activities. Mention where you would promote the supplier's products and provide any information the supplier may request. The following process is individual to each supplier and vendor personally.
What are the selling methods used by these suppliers?
These suppliers can offer you wholesale, dropshipping or affiliate partnership methods. Every supplier and partnership case is individual and separately agreed by both parties.
Some of the suppliers websites are in a different language and I don't understand it, what can I do?
You can simply translate website using google translate. Just past supplier website address to the field for text and enter the link generated in translated field, that's simple.
Questions about dropshipping business
Dropshipping helps clients buy from suppliers. Own a store and sell things. After selling them online, you order them from the supplier using the customer's final address. You establish your own prices on your website, and the dropshipping supplier handles delivery and guarantee. No storage or shipping needed!
What questions should I ask a dropship supplier?
Every partnership case is different but here are few question you would probably need to ask supplier:
Can anyone buy from this vendor?
Is there a "dropfee" involved?
Is it difficult to contact them?
Do I have to pay a monthly fee?
Do they necessitate a specific amount of sales or orders?
How do I start a dropshipping business?
Everyone can become a dropshipper and earn money from it. These are some tips to get you started:
Select a certain market to focus on.
Find out what other companies are selling.
Select desired category or country on our suppliers page and purchase the suppliers list.
Create or order a professional online development store to sell selected products. You can do it here.
Promote your dropshipping store in all possible places, social networks, and run some ad campaigns.
Analyze and improve your store.
For a typical week, how many hours does dropshipping require?
One of the best things about having a dropshipping business is how little time it takes up. Two to eight hours each week is all you need to manage and run your online business. Once your online store is complete, the only ongoing work is to process the orders, checking that everything is correct to avoid mistakes.
Will dropshipping be profitable in 2023?
Can You Still Make Money If You Dropship? In the year 2023, it is the case. Actually, the rise of dropshipping has coincided with a decline in the use of marketplaces like AliExpress. If you're considering entering the world of online business, this is a great way to do so.
Can you dropship from a retailer?
Yes. Any party in the supply chain can dropship, including manufacturers, wholesalers, and retailers. You need to get in touch with that specific supplier and ask them if they can offer your business drop-shipping. With our lists, it's easy and time-saving to find and contact specific suppliers! In our lists, all suppliers have their websites online with important business-related information and contacts in it. Just pick your category from our lists of suppliers and start selling! 
Can you dropship from a wholesaler?
Yes. There are many wholesalers who offer dropshipping. Keep in mind, that some of them can charge an upfront dropshipping fee for each purchase. This fee can range anywhere from 2€ to 5€ or more, depending on the amount and type of the items that are being sent.
Can you dropship from a manufacturer?
The short answer is yes, you can dropship directly from the manufacturer. But again, every deal depends on the specific supplier, dropshipping business, products, and the agreement. Small, cheap products are often being shipped in bulk, while more valuable product manufacturers are more likely to send the product directly to your customer. If a manufacturer is willing to ship its products directly to your customer, it is dropshipping on your behalf. Everything depends on the amount of markup you can charge on a single product or the number of your monthly orders. Keep in mind that dropshipping from retail merchants is often easier, although its pricing won't be as competitive because it isn't buying directly from the manufacturer. 
Have a question we have not answered?
We are here to help answer all your questions. We can also answer your questions related to e-commerce website development, maintenance, products import / export, payment, shipping integrations, and marketing services.